prAna brought Elixir in to establish the brand's visual language and, in tandem, to begin developing prAna's first direct-to-consumer catalog. The company had built a loyal following among climbers and yoga practitioners who valued the brand's authenticity. Without compromising the soulfulness that defined its first 17 years in business, prAna wanted to attract a broader audience of outdoor enthusiasts, artists, and other "cultural creatives" to drive significant growth. The management team described prAna's desired revitalized brand position as balancing "the thrilling tension between mindful living and living on the edge."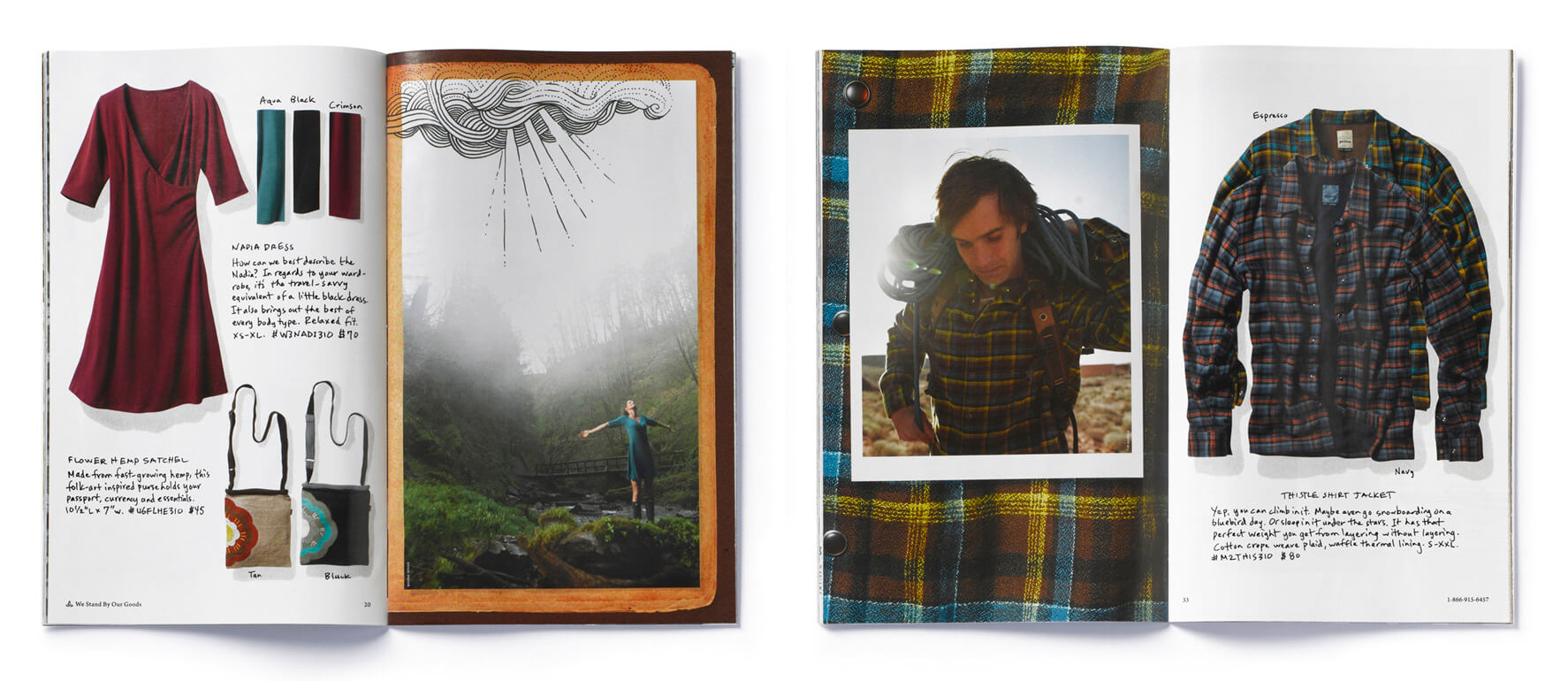 prAna's primary sales channel was through retail partners in over 40 countries (from REI and Amazon to independent yoga studios and climbing gyms). The company wanted to increase direct sales, via a catalog to complement its website and new retail outlets, including prAna's store-within-a-store in Santa Barbara—for which Elixir designed various aspects of the in-store experience.
The Fall and Holiday 2010 catalog mailings include many prospective customers unfamiliar with the brand. To infuse the books with the spirit of prAna without sacrificing selling space, Elixir paired product and lifestyle shots with hand-crafted touches. These include hand-drawn shadows behind merchandise; hand-lettered titles and text; and the juxtaposition of illustrations by Jeremy Collins with images from a host of specialized photographers: Andrew Burr, Mario Covic, Jeffrey Cunningham, Tim Kemple, Amir Magal, Ben Moon, Richard Seagraves, Boone Speed, Rich Van Every, and Jeremiah Watt.
prAna's new Santa Barbara store celebrated its grand opening on October 25, 2010. Here are a few photos of the preparations—and illustrations—that set the scene.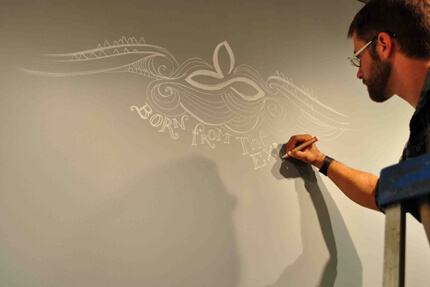 Illustrator Jeremy Collins making his mark in the store.
Signage (designed by Elixir) paired with the company's new expansive "tagline"—which also lives on the cover of the catalog.
The floor-to-ceiling chalkboard is great for announcing events and engaging the community.